THE TOWN OF WAXHAW NC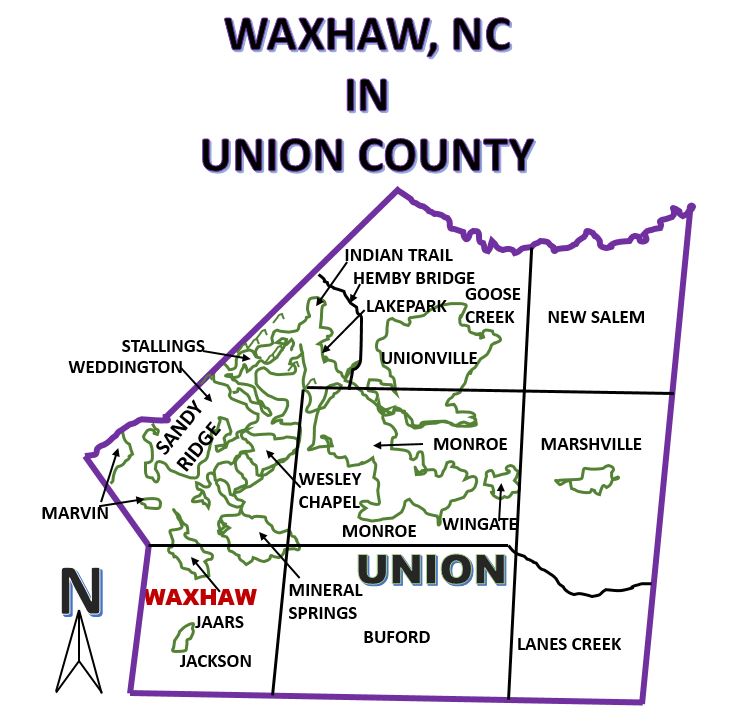 Waxhaw is extremely charming, serene and a beautiful place to call home. The town is located south Charlotte, southwest in Union county, and north of Lancaster county in South Carolina. The town of Waxhaw, NC is adjacent to Marvin, Weddington, Ballantyne, NC and Indian Land, SC. According to U.S Census, Waxhaw's 2015 population is 13,495 and growing fast every day. The town of Waxhaw was established in 1889 and named after a Native American Tribe. This town the home of our seventh United States president, Andrew Jackson.

This small historical town offers various antique shops, fine dining, stunning park landscapes, amazing horse farms & gorgeous architectural estate homes. Every April, the residents of Waxhaw and around the region get ready the infamous Queens Cup Steeple Chase Horse Race event. This is the party event of the year for all residents and corporations from Bank of America, Wells Fargo and much more. At this event, the women would dress in their finest sun dresses, striking hats, and the men will wear dress or polo shirt & khakis. Some men wear their favorite sports coats, bow ties, dress shirts & a hat to complete the look. It's rarely that you would see jeans at this event in Waxhaw, NC.

The real estate in Waxhaw has a mixture of townhomes, single-family homes, and a small section of the commercial that is primarily in downtown & N. Broome street area. The residential homes in Waxhaw, NC only consists of townhomes and single family homes with home price ranging from $44K for a townhome to $3.8M for an estate home. Various breathtaking neighborhoods from stunning single family homes with 1/2 acre or less to estate homes with multi-acreage will make newcomers want to view and consider it as home. The town of Waxhaw is the best of both world for residents and newcomers because it offers a living in a small town atmosphere, but yet it's tremendously close to the city life that is in Ballantyne area of Charlotte, NC.


The breakdown of these neighborhoods
Homes from $72K - $250K: Hillcrest, Summerhill Estates, Harrison Park, Jackson Woods, Hermitage Place, Plantation Forest

,Crow Creek Acres, Wesley Oaks, Conservancy at Waxhaw Creek,

Demere

& much more.

Homes from $250K - $500K: Lawson, Alma Village, Plantation Forest, Waxhaw Farm, Millbridge,The Reserve, Stonegate, Somerset, Quellin, Cureton, Hunter Oaks, Tuscany, Anklin Forest, Cavaillon

& much more.

Homes from $500 - $1M: Brookmeade, Valhalla Farms, The Chimneys of Marvin, Weddington Chase, Chatelaine, Providence Down, The Gates at Ansley, Longview, Providence Downs South, Stratford On Providence, McNeely Farms, Victoria Lake,Skyecroft

& much more.

Homes from $1M: - Up: Ladera, Providence Downs South, Longview, Skyecroft, Woodhall, Aero Plantation, Saratoga Woods, Sedgefield, Providence Downs, Cane Pointe, Chatelaine, McNeely Farms, , Stratford On Providence, The Farms At Heartwood

& much more.




DEMOGRAPHIC & HOMES SALE INFORMATION
Waxhaw Demographic (2015 According to U.S. Census, Areavibes & City Data)
Median Household Income: $84,294
Percentage High School graduate or Higher: 96.4%
Median Residents Age: 36
Married: 72%
Caucasian: 78.29%
African American: 11.63%
Asian: 3.48%
Hispanic: 6.6%
Number of Companies: 1,181
Waxhaw Home Sale Information - 2016 - 2017
Median price Per SQ FT: $118 p/SF
Median Housing Value: $382,000
Median Sell Price to List Price: 97.5%
Months Supply: 5.1 Months (Stable)
Median Days on Market: 27 Days
CRIME RATE
Area Vibe Website has rated as an "A+" for the town of Waxhaw, NC in the overall crime rate. According to this website, the crime rate in Waxhaw, NC is 72% lower than the region average, 70% lower than the national average & it's safer than 84% of the cities in the U.S.



AMENITIES


Waxhaw, NC has abundant of shopping centers, restaurants, fitness centers, groceries, cafes, martial art schools, dry cleaners, movie theaters, brewery, library and many large parks. In fact, there are 2 new development projects going on in Waxhaw, NC: 1) A large YMCA is currently being developed by Cureton shopping center located close to Kensington road in Waxhaw, NC, and 2) A new shopping center complete with loft condos to purchase, which will be located in Waxhaw downtown area.

Moreover, the residents can choose various shopping centers in Waxhaw from antiques to charming upscale clothing stores. The town of Waxhaw, NC is in close proximity to Blakeney shopping center, Stonecrest shopping center, Promenade shopping center, Carolina Mall, Ballantyne Village & Piper Glen shopping center.

If you're considering relocate to North Carolina, you need to visit the charming town of Waxhaw, NC before deciding on a city/town to call home.

The Town of Waxhaw, NC Information