VILLAGE OF MARVIN, NC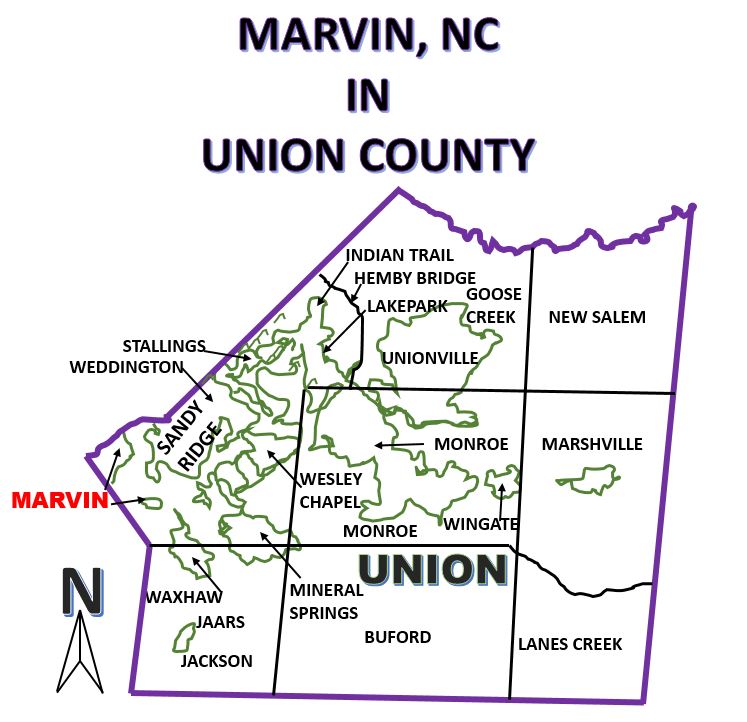 The village of Marvin, NC is extremely a small town, but it has many offers to its residents and newcomers from beautiful homes with large lots, magnificent park & great schools. Marvin, NC located southwest of Union County, and adjacent to Waxhaw, Ballantyne, and South Carolina border. Many people have chosen Marvin, NC as home, because of its location, schools and low taxes. According to U.S. Census, Marvin, NC population is 6181 and growing every day.

Due to Marvin, NC only consist of 6 square miles, it doesn't have any condos, townhomes or commercial real estate. it only has residential single-family home communities with home price ranging from $380K - S1.8M. The homes in Marvin will astonish you with its size, custom architectural designs, and the lot size.


The Home Price Break down
Home Price $380K - $500: Willow Creek, The Courtyards of Marvin, Providence Glen, Providence Ridge

, Providence Road Estates & many more.
Home Price $500 - $1M: Amber Meadows, Robinwood, Valhalla Farms, Marvin Estates, Canterfield Creek, Weddington Chase, Marvin Creek, Rosecliff, Wyndmoor, Tullamore, Woodcliff, Oak Brook Estates, Firethorne, Innisbrook at Firethorne

& much more.
Home Price $1M - Up: Innisbrook at Firethorne, The Preserve at Marvin, Firethorne, Woodhall, Sedgefield, Oak Brook Estates

.
DEMOGRAPHIC & HOMES SALE INFORMATION
Marvin Demographic (2015 According to U.S. Census, Areavibes & City Data)

Median Household Income: $181,452
Percentage of High school graduate or Higher: 96.7%
Caucasian: 76.1%
Asian: 11%
Hispanic: 7.3%
African American: 1.9%
American Indian: 1%
Other Race: 2.7%
Marvin Home Sale Information - 2016 - 2017
Median price Per SQ FT: $157 p/SF
Median Housing Value: $553,200
Median Sell Price to List Price: 98.1%
Months Supply: 4.1 Months (Stable Market)
Median Days on Market: 25 Days
THE CRIME RATE
Area Vibe Website has rated as an "A+" for the village of Marvin, NC in the overall crime rate. According to this website, the crime rate in Marvin, NC is 68% lower than the region average, 65% lower than the national average & it's safer than 77% of the cities in the U.S.



AMENITIES


The exquisitely charming small village of Marvin doesn't have much in amenities from shopping, restaurants, cleaners or gas stations. However, it has a beautiful Efird park that provides outdoor movie summer nights and annual Christmas tree lighting. This amazing park has open pavilion barn, walking trail, and captivating playground for the children.

Although Marvin, NC doesn't have any commercial amenities, but it's very close to Indian Land, South Carolina shopping center & gas stations, Ballantyne Village shopping center, Blakeney shopping center, Stonecrest shopping center, many Waxhaw shopping centers and downtown area. Marvin, NC gives a feeling of living in the country but surrounded with all the conveniences of life.

The Village of Marvin, NC Information
Areavibes